Solution: Petal Path
Written by lydian, kt3 and betaveros
This is a crossword variant, so the obvious thing to do is to solve the clues. You probably won't go wrong with simply Google searching the clues themselves, though it's sometimes useful to search on dedicated crossword sites too.
Filling in the grid may be tough because of the unusual design, but you can pull it off with even MS Paint. A software more dedicated to crossword grids is Qxw. Using Qxw, you can lay this grid out by treating it as an 8x8 torus with some black squares, like this: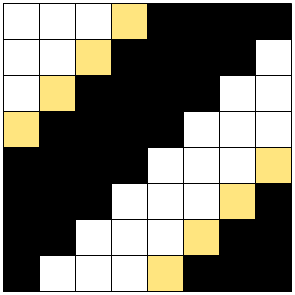 Either way, here's the solved grid: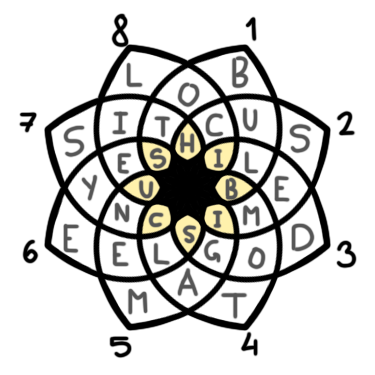 The answer HIBISCUS is extracted from the "squares" highlighted yellow.
Clue Answers
| Clockwise Clue | Answer |
| --- | --- |
| Word that comes after light or flower | BULB |
| Prefix meaning half | SEMI |
| Scooby, Goofy, and Clifford, for example | DOGS |
| Softest mineral on the Mohs scale | TALC |
| A waiter might bring you one | MENU |
| For your ____ only | EYES |
| Enemy of the Jedi | SITH |
| Sets of points in math | LOCI |
| Counterclockwise Clue | Answer |
| Chatroom spammers | BOTS |
| "____ is life" | SUCH |
| Store with ready-to-eat food | DELI |
| Location that Lara Croft might raid | TOMB |
| Three wise men in the Bible | MAGI |
| Long, slippery fishes | EELS |
| Lip ____ (pretend to sing) | SYNC |
| In ____ of (rather than) | LIEU |
---
Author's Notes
I really wanted to do something with the feeder HIBISCUS since it's one of my favorite flowers, so I thought a puzzle themed around "(S)he loves me, (s)he loves me not" would be a good idea, but that ended up being quite inelegant and contrived. After a few more attempts at making a good puzzle off this feeder, kt3 came up with the idea for some kind of crossword variant for this puzzle, and I immediately thought of the petal puzzle, or petal crossword, variant, so we began working on that. Using QXW's Torus option, I managed to work out a fairly pedestrian fill. Later, kt3 and betaveros made a much better fill, which is what you see in the final version of the puzzle, and between the three of us, we wrote the clues. It's fairly straightforward, but a bit different from the other round one puzzles, and I think it's a good call to introduce our solvers to some unique crossword variants, so despite the simple extraction and the lack of gimmicks, I think this one got the job done. I hope you enjoyed it, aloha!